Feature #706
make c-menu play/pause buttons into a toggle
Status:
New
Start date:
February 26, 2017
Priority:
Minor
Due date:
Assignee:
-
% Done:

0%

Category:
-
Target version:
-
Affects version:
3.8.2
---
Description
Currently the systray c-menu has both a Play and a Pause button.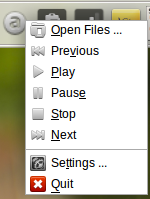 It would be neater if the two were combined into a single Play/Pause toggle, similarly to how this is already on the main toolbar.
History
I've just realized that this request would likely affect the Playback menu as well:
Overall this would make all the playback menus / buttons more consistent with each other.